Florida Online Gambling Guide
Whether you are into casino gambling, sports betting, or real money poker rooms in Florida, the Sunshine State offers the full gambit to area players. This Florida online gambling guide has been prepared for bettors intent on locating the finest gaming venues available in the state for in-person, online, and mobile.
We provide information on legitimate casinos in Florida, sportsbooks, poker rooms, bingo, lottery, horse racing, dog racing, and more.
If you are planning on betting in Florida in the near future, then you've come to the right place, as this handbook will let readers know what's readily available and shares links to the best Florida online gambling locations operating today.
Legal Florida Gambling Sites
The brands we've compiled below represent the best Florida online gambling sites for 2023. These offshore venues are separated into the categories of the top online casinos, sportsbooks, and real-money poker sites.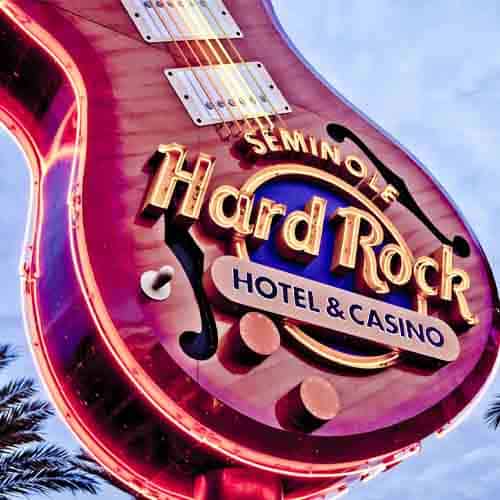 Local FL Casinos - The Seminole Tribe operates six major brick-and-mortar casinos, while other tribes operate various mini-casinos consisting of VLTs and player-banked poker games. In 2021, the Seminole signed a new compact with the state, allowing them to host roulette, craps, slots, and blackjack.
Additionally, many popular gambling games are offered via casino cruises, though these are commercial operations and are not subject to tribal gambling compacts. Players must be 21 or older to enter a state regulated casino, but some non-alcohol serving card rooms accept 18 and older clientele.
Offshore Florida Casinos - A Las Vegas-style experience is also available online through gambling sites that offer Florida online casinos. On the web, you will find many games commonly seen at domestic casinos, all within the touch of your fingers or mouse.
You can also enjoy FL online poker in addition to casino gambling by accessing the websites we recommend, all of which allow legal wagering on casino games and real-money poker any time, day, or night. You only need a computer or mobile device to access Florida online gambling.
Florida Sports Betting Options
Domestic Sportsbooks In Florida – In 2021, the state of Florida entered into a new gaming compact with the Seminole Tribe of FL that grants them a sports betting monopoly for 30 years. Mobile and in-person sportsbooks opened briefly in 2021, but by December, operations were suspended due to a legal challenge.
In June 2023, three federal appellate judges ruled that the FL-Seminole gaming compact was legal, but domestic Hard Rock Sportsbooks have yet to reopen as of this writing.
Offshore Florida Sports Betting – International sports betting websites that operate inside regulated gaming districts and possess proper credentials can accept FL-based gamblers and allow them to bet on sports on the net. Some of these FL-friendly sportsbook sites accept bettors as young as 18, three years younger than domestic venues.
Popular sportsbooks include NFL sportsbooks, NBA sportsbooks, NCAAF sportsbooks, and more.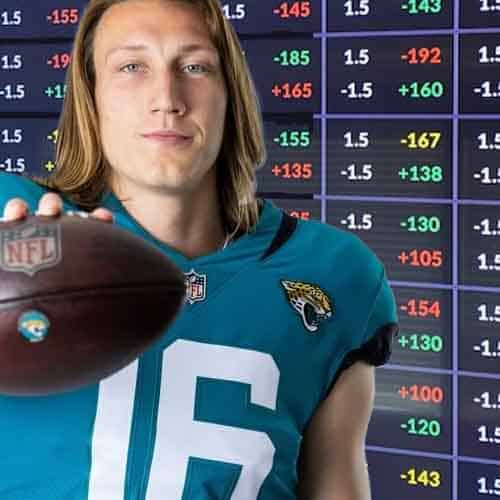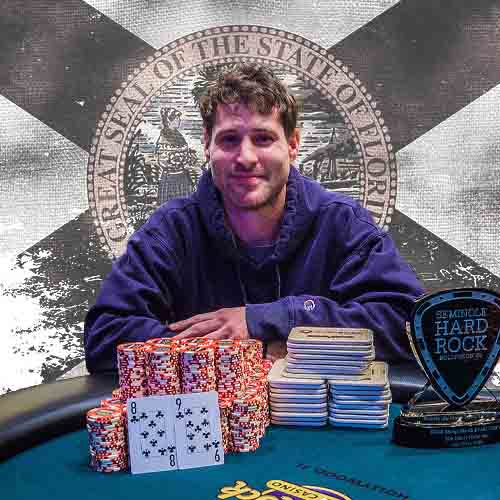 Local Poker Rooms – There are several domestic poker rooms in the state that either operate inside a larger casino or are standalone card rooms. These locations can accept players at 18 and let them ante up at the tables.
Online Poker Rooms – FL has not authorized online real money poker sites, but there are still plenty of options for Florida players offshore. The FL poker sites we list here offer superior services to online players in the Sunshine State, and many of them allow members to join at the age of 18.
Although the dog and horse racing industries have mostly dried up in FL, the betting has not. Most tracks kept their retail casino lounges and now offer off-track betting via simulcasts of the most popular races occurring around the world. Gamblers can bet on the horses or dogs in several in-person racebooks around the state.
Thoroughbred racing and dog races can also be wagered on via offshore racebook sites. Most of the sports betting sites listed here can handle your racebook wager, but they don't offer video streams of the races.
Betting Apps In Florida
The only mobile gambling in FL offered domestically is through sports betting apps unless you opt for an offshore site where casino games and poker are also permitted. Here are the key differences between domestic and offshore sportsbook applications.
Domestic Florida Sportsbook Apps – The Hard Rock Sportsbook offers a downloadable sports betting app hosted on their website. 21 and older gamblers in FL can install it on current Apple or Android devices and use it to bet on pro or college sports
At the moment, the Hard Rock Sportsbook App is unavailable for download. It is expected to become available soon, thanks to a favorable judgment that ruled the Seminole-FL gaming compact to be legal.
Offshore FL Sports Betting Apps – For those looking to place a mobile sports bet in FL right now, the Florida online gambling sites we review and recommend can do the job. Just pull up any of the sites listed here on your modern Apple or Android device using a mobile web browser, and you can wager on games from anywhere you like. Ensure you meet the minimum age requirement – our favorite FL sportsbooks range from 18 to 21.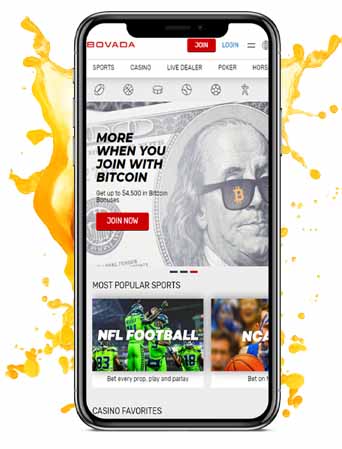 Where To Gamble In Florida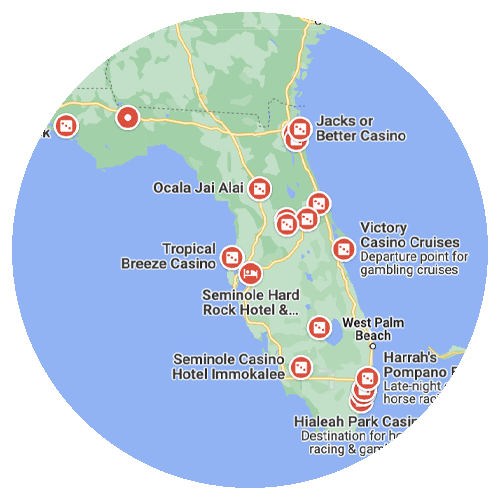 In-person casino gambling in FL: Seminole Hard Rock Casinos
Florida online gambling casinos: Offshore casino websites only
Mobile casino gambling: Offshore casino websites only
In-person sports betting: Seminole Hard Rock Casinos
Online sports betting: Hard Rock Sportsbook website, offshore sports betting sites
Mobile sports betting apps: Hard Rock Sportsbook app, offshore sports betting apps
In-person Florida poker: Poker rooms, Seminole Hard Rock Casinos
Online Poker in FL: Offshore poker sites
Mobile poker apps: Offshore gambling sites
How To Gamble In Florida With A Domestic Operator
In-Person: If you are 21 or older, gambling on casino games, real money poker tables, or betting on sports can be done at a Seminole Hard Rock Casino or other casinos. Poker rooms around the state host tables and allow 18 and older players to enter and participate.
Online: The only option for domestic sports gambling over the web in FL is with the Hard Rock Sportsbook at 21 years of age. However, offshore gambling sites let state-based players to partake in online casino games, poker, and bet on sports, with some allowing members to join at 18 years old. In addition, there are options for online horse and dog race betting in FL and web-based lottery games hosted by the Florida Lottery.
Mobile: The Hard Rock Sportsbook app can be downloaded to smartphones and tablets to bet on sports in FL. If you are not yet 21, you can take advantage of some offshore sportsbook sites that let 18 and over gamblers join and bet.
Yes. Domestic Florida online gambling is only offered in the form of sports betting and lottery. The single online sportsbook regulated by the state is hosted by the Seminole Hard Rock Casino, with no restrictions placed on betting on college games that include local teams. FL does not allow online casino games or poker to be hosted domestically.
Because there are no FL gambling laws that ban offshore venues from accepting members in the Sunshine State, players can legally join any of the sites we link to here and use them to bet on sports, play real money casino games, or ante up some cash at the poker tables online. These offshore gambling sites have served the FL region for over a decade and are currently the top online gaming options.
Yes. The following gambling types are legal domestically in the state of FL:
Casino Gambling: 21 and older patrons can enter the state's few retail casino locations and gamble on their table games, slots, and other popular favorites. There is no domestic option for online casino gambling at this time.
Poker Rooms/Card Rooms: Several retail poker rooms are located around FL. The minimum age to play real money poker in the state is 18, but some locations serve alcohol and only accept 21+ players. There is no online poker available domestically.
Parimutuel Betting: Although most dog and horse racetracks are now inoperable in the state, many have converted into gambling houses that host simulcasted off-track wagering. Online racebooks are also legal and accept bets from 21 and older players in the state.
Sports Betting: 21 and older gamblers are permitted to bet on sports at a retail, online, or mobile sportsbook that the Seminole Tribe of Florida hosts.
Minimum Age For Casino Gambling: 21 is the minimum age to partake in domestic casino gambling in FL. The Seminole Hard Rock Casinos in Florida are the only in-person venues in the state.
Minimum Age To Play Poker: Poker rooms can be entered at 18 years old, but there are some that are 21+ only due to alcohol sales. The poker tables at Seminole Hard Rock Casinos are only accessible to 21 and older clientele.
Minimum Age To Bet On Sports: FL's sportsbooks allow for betting on sports at the age of 21 at retail locations, online, or using the state's domestic mobile sports betting applications.
Minimum Age For Lottery: Lottery tickets can be purchased in-person or online by anyone over 18 years old.
Local Gambling In Florida
The Big Easy Casino Hollandale Beach
Harrah's Pompano Beach
Seminole Casino Brighton
Seminole Casino Coconut Creek
Seminole Casino Hotel Immokalee
Seminole Hard Rock Hotel And Casino Tampa
Seminole Hard Rock Hotel And Casino Hollywood
Tropical Breeze Casino (Casino Cruise)
Victory Casino Cruises Cape Canaveral
Seminole Hard Rock Hotel And Casino Tampa
Seminole Hard Rock Hotel And Casino Hollywood
The Big Easy Casino Hollandale Beach
bestbet Jacksonville
bestbet Orange Park
bestbet St. Augustine
Bonita Springs Poker Room
Calder Casino Miami Gardens
The Casino @ Dania Beach
Casino Miami Jai-Alai
Club 52 Melbourne Greyhound Park
Creek Entertainment Gretna
Daytona Beach Racing and Card Club
Derby Lane Poker Room St. Petersburg
Ebro Poker Room
Harrah's Pompano Beach
Hialeah Park Casino
Magic City Casino Miami
Miccosukee Resort Miami
Ocala Gainesville Poker Orange Lake
One-Eyed Jacks Sarasota
Orange City Racing & Card Club
Oxford Downs Poker Room Summerfield
Palm Beach Kennel Club West Palm Beach
Pensacola Greyhound Track
Seminole Casino Brighton
Seminole Casino Coconut Creek
Seminole Casino Hotel Immokalee
Seminole Hard Rock Hotel And Casino Tampa
Seminole Hard Rock Hotel And Casino Hollywood
Silks @ Tampa Bay Downs
TGT Poker & Racebook Tampa
Big Easy Casino Hallandale Beach (Simulcast)
Bonita Springs Poker Room (Simulcast)
Casino Miami Jai-Alai (Simulcast)
Creek Entertainment Gretna (Simulcast)
The Casino @ Dania Beach (Simulcast)
Daytona Beach Racing and Card Club (Simulcast)
Derby Lane St. Petersburg (Simulcast)
Ebro Greyhound Track (Live Greyhound Racing/Simulcast)
Gulfstream Park Racing and Casino Hallandale Beach (Live Thoroughbred Racing/Simulcast)
Hialeah Park Race Track (Simulcast)
Magic City Casino Miami (Simulcast)
Melbourne Greyhound Park Melbourne (Simulcast)
Ocala Poker & Jai-Alai (Simulcast)
Orange Park Kennel Club Orange Park (Simulcast)
Orange City Racing and Card Club (Simulcast)
Palm Beach Kennel Club West Palm Beach (Simulcast)
Pensacola Greyhound Track (Simulcast)
Tampa Bay Downs (Live Thoroughbred Racing/Simulcast)
Tampa Greyhound Track (Simulcast)
Online Gambling In Florida vs. In Person
In-Person Gambling
Only offered through state-regulated operators
21+ for most gambling, some poker rooms are 18-friendly
Simulcasted off-track betting available at several locations
Online Gambling
Online sports betting in FL offered domestically and offshore
No domestic online casinos or poker at all
Online casino games can be played at offshore gambling sites
Real-money poker can be played at international venues
State-regulated online lottery games and scratchers available in FL
18+ accepted at some offshore gambling sites
Election betting only available at overseas sportsbook sites
Offshore casino sites offer live dealer blackjack, roulette,  and more
Florida Online Gambling FAQs
While there are card rooms and cruises that are within an hour's drive of Orlando, the closest Vegas-style casino experience is the Seminole Hard Rock Hotel And Casino Tampa. The Hard Rock Casino is roughly 80 miles down I-4 from downtown Orlando.
Both domestic and offshore sportsbooks are legal in FL. Hard Rock Sportsbooks can lawfully operate because of a gambling compact agreement between the Seminole Tribe and the state. Offshore sportsbook sites can be used to bet on sports in FL because there are no laws that prohibit them.
Real money poker online has not been made legally domestically in the Sunshine State. The only option for playing cash games of poker on the web in FL is by using an offshore gambling site like the ones we endorse here.
Domestic FL casinos currently exist in Hollandale Beach, Pompano Beach, Brighton, Coconut Creek, Immokalee, Tampa, and Hollywood. There are also a few casino cruises that dock around the state. 
For now, the only web-based gambling approved by lawmakers is online sports betting and lottery games. Because of the Seminoles' stronghold on local gambling, if online casinos are ever made legal, they'll oversee the operations.
Lottery tickets became legal in 1986, with the first scratch-off sold in 1988. In 1996, $10 pot limit poker was legalized at the state's dog and horse tracks, with slot machines added in 2006. In 2004, Tampa and Hollywood's Seminole Hard Rock Casino were built. In 2021, the first sports bet was accepted by a domestic sportsbook.
The only domestic betting app that is approved in FL is the Hard Rock Sportsbook application. Offshore sportsbook applications like the ones we list here can be used to place bets and play cash casino games just by connecting to them using a mobile web browser. There are no laws that suggest betting with an overseas operator is prohibited.
Legal sports betting in FL requires wagering with their only domestic book, the Hard Rock Sportsbook, or becoming a member of an offshore sports betting site.
There are seven casinos currently operating in FL.
Yes. While doubtful, there is the potential for commercial sportsbook operators to convince FL voters to support an initiative that would place a constitutional amendment on the ballot. Even if voted on favorably, there's still a chance any effort would be squashed by the Governor to protect current gaming compacts with the Seminole Tribe.