Florida Gambling Venues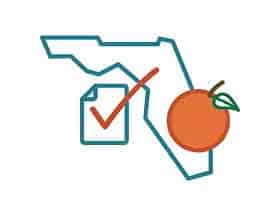 Florida gambling venues run the gamut, with six Seminole Class III casinos throughout the state, a Class II Miccosukee venue in Miami, and dozens of former dog tracks that have been converted to racino card rooms and VLT/simulcast lounges. There are also several Thoroughbred tracks in FL, with Gulfstream Park in Hallandale Beach being home to the Pegasus World Cup, one of America's premier pony races.
Of course, you can also play the Florida Lottery and other interstate and international lotteries in the state, and there are thousands of retail ticket vendors for these amusements. Finally, you can enjoy real Vegas-style casino gambling on any of FL's many gambling cruises.
And despite the state not offering domestic online gambling, you can play real-money online casino games from any computer or mobile device if you live in FL, safely and legally, by joining any of the online services we recommend.
Florida Online Gambling Venues
If you want to bet at a Florida online gambling venue, that's perfectly legal in the Sunshine State, as long as you use a licensed and regulated international betting site. These vendors offer a full slate of real-money gaming, including online poker, online casino games, online bingo, online horse racing betting, online lotteries, and even online FL sports betting!
The casino brands in the table below are all USA-friendly and welcome Flroida players at just 18 and older. Our team of professionals has vetted each service, and they all offer legitimate, high-quality gambling options for players in Florida. (For domestic online e-lottery options, please visit our page dedicated to the Florida Lottery).
Top Ranked Florida Online Casinos For 2023
| Gambling Site | Casino Bonus | Rating Out Of 5 | Visit Site |
| --- | --- | --- | --- |
| | Welcome Bonus: $3,000 | 4.8 ⭐️ | Play Now |
| | Welcome Bonus: $6,000 | 4.7 ⭐️ | Play Now |
| | Welcome Bonus: $4,000 | 4.5 ⭐️ | Play Now |
| | Welcome Bonus: $8,000 | 4.5 ⭐️ | Play Now |
Top Ranked Florida Online Poker Rooms For 2023
| Gambling Site | Poker Bonus | Rating Out Of 5 | Visit Site |
| --- | --- | --- | --- |
| | Welcome Bonus: $500 | 4.7 ⭐️ | Play Now |
| | Welcome Bonus: $1,000 | 4.6 ⭐️ | Play Now |
| | Welcome Bonus: $1,000 | 4.5 ⭐️ | Play Now |
Top Ranked Florida Online Sportsbooks For 2023
| Gambling Site | Sports Bonus | Rating Out Of 5 | Visit Site |
| --- | --- | --- | --- |
| | Welcome Bonus: $750 | 4.7 ⭐️ | Play Now |
| | Welcome Bonus: $3,125 | 4.7 ⭐️ | Play Now |
| | Welcome Bonus: $1,000 | 4.6 ⭐️ | Play Now |
| | Welcome Bonus: $1,000 | 4.6 ⭐️ | Play Now |
| | Welcome Bonus: $1,000 | 4.5 ⭐️ | Play Now |
Brick-And-Mortar Casino Venues In Florida
In Florida, Vegas-style casino action can be found at six different Class III casinos operated by the Seminole Tribe (including their two flagship Hard Rock properties). You can also enjoy the full assortment of casino excitement – including blackjack, roulette, card games, slot machines, and other table games – aboard any of the many gambling cruise boats located throughout the Sunshine State.
For example, the Titan Cruise Lines Ocean Jewel runs out of St. Petersburg and offers an enjoyable three-mile ocean voyage before Florida gambling laws allow you to begin wagering.
Still, for most players, the few land-based Florida casinos available in the state are the better options, as they're generally more convenient and less expensive logistically. Of course, because there are comparatively few casinos throughout such a big state, you'll likely incur travel and lodging expenses regardless of where you choose to play. For this reason, we recommend gambling at licensed and regulated online betting sites that operate outside of FL and US borders.
Tribal Gambling Venues In Florida
All casino gambling in Florida is reserved for recognized Native American tribes, with the Seminole Indians operating all six of the state's Class III gambling venues. The Miccosukee Indians operate the state's only Class II casino, the Miccosukee Resort & Gaming (Miami), while other tribes run the various racino and cardroom locations peppered throughout the state.
For those of you looking only for a game of cards, Jacksonville boasts the largest poker room in the state at the BestBet Jacksonville, with over 70 tables. The Sun Cruz Casino – a floating casino out of Jacksonville and Daytona Beach – is also tribal run.
Horse Racing Venues In Florida
Florida isn't known for it's horse racing scene, with the exception of the Gulfstream Park Thoroughbred Race Track and Casino in Hallandale Beach. This is one of the premier Thoroughbred horse tracks in the country, and visitors can also enjoy poker and VLT options. Gulfstream Park is home to the Pegasus World Cup, one of the richest Grade I stakes races in the world!
Tampa Bay Downs also offers horse racing, as does the Mardi Gras Racetrack and Gaming Center, which is just a short trip down the road from Gulfstream Park in Hallandale Beach. Located near the NFL's Miami Dolphins Stadium is the Calder Race Track, providing on and off-track betting (OTB) on the ponies, as well as poker and casino-style lottery games.
Jai Alai Frontons In Florida
Florida gambling venues are as diverse as are the people who enjoy them. If you like high-speed excitement, head over to one of the many Jai Alai frontons found in Florida. Pari-mutuel Jai Alai gambling is offered at the Fort Pierce Jai Alai complex in Fort Pierce, as well as many other areas statewide.
With its origins in Spain's Basque regions, the many Spanish communities in Miami enjoy wagering on this lightning-fast sport at the Miami Jai Alai Stadium, and travelers to the central part of the state can experience Jai Alai betting at either the Ocala Jai Alai complex in Orange Lake or the Orlando Jai Alai facility in Casselberry.
Dog Racing Venues In Florida
As of 2020, greyhound racing in FL is no longer legal. However, the venues are still standing, as they have been converted into "racinos" and cardrooms where players can enjoy third-party-banked poker games and VLT electronic slots-style lottery machines with casino gambling themes. These venues will also be allowed to host domestic Florida sportsbooks now that the state has signed a new gambling compact with the Seminole Tribe.